Chennai's Gifts to the world #5- A.R.Rahman
When we were talking about gifts of Chennai in our mailing list, a persons name was frequently mentioned. A person, who is scaling new heights every single day in his career and still remains humble and simple, A person who is adored by people of all ages, not just by people of his city but all across the world. Who are we talking about? Ok. Those of you old guys, remember the year 1992? If you had watched oliyum oliyum that particular day, you will still remember it. Yes, who can forget the fresh music preceding 'chinna chinnai aasai' song from Roja? Ladies and gentlemen we are talking about the one and only A.R. Rahman, who is fondly called as BOSS by his fans.
He was been a chennaivasi right from beginning. Have you guys seen his house and recording theatre in Kodambakkam? Only if someone mentions you will realise that he lives there. Just like him, very simple!

I don't think, anyone apart from Gopal Srinivasan can do justice to this topic. Here, I will get you some interesting information abour Rahman, from Gopal's biography and other interesting links. To start with lets see how Rahman got his big break.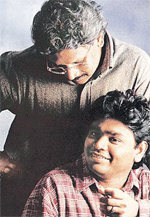 (Picture Courtesy: TribuneIndia)
One day, at an awards function for excellence in the field of advertising, Mani Ratnam chanced upon a young man who received the award for the best ad jingle which he had composed for the popular Leo Coffee ad. At the celebrations party that followed the awards presentation ceremony, Mani Ratnam was introduced to the young composer by his cousin Sharada Trilok of Trish Productions for whose company the young man had produced some outstanding work. Sharada had words of high praise for the young composer. Mani was curious and requested him for a sample of his wares. The composer readily complied and invited the director over to his studio. Mani Ratnam turned up at the studio only after six months, where the 24 year old lad played out a tune that he had been pushed into composing by his school friend G.Bharat alias Bala when they both had been greatly disturbed by the socio-political tensions in South India over the Cauvery river waters issue. Listening to the tune that was played, Mani was hooked instantly. Without a second thought he signed on the composer to score the music for his next film. That film did not work out but Mani signed him on for a new film which was to be produced by the veteran Tamil director K.Balachander for his respected 'Kavithalayaa' banner. That film was 'Roja'. That tune would become the song "Tamizha Tamizha" in 'Roja'. The music of the film would be a phenomenal success that would revolutionise modern day Indian film music. The name of the 25-year old composer was A. R. Rahman. And the rest, as they say, is history.
Its been almost 15 years now, and the Rahman-Mani combination has become extremely popular. It would be an understatement to say, Maniratnam gets the best songs of Rahman (or) best picturisation of Rahman's songs are by Maniratnam. Who can forget the colorful picturisation of 'Pachai Nirame'?
The most interesting part of Rahman's career that I have been closely following has been his singing. Initially when Roja was released some people said 'Hey It is Rahman who sang that yelelo part in the middle of Chinna Chinna Aasai song'. It took sometime to believe that. From that to sing 'Tere Bina Beswaadi' in Guru has been a fascinating journey for us fans. Some of his songs, just melts you. For instance, is there someone who isnt moved by the song 'Vellai pookal ulagam engum malargave' from Kannathil Muthamittaal or 'Yeh jo des hai tera' from Swades? Needless to mention the 'New York Nagaram' or the 'Musthafa Musthafa', 'Anbe Aaruyire' songs. And the way he goes with the aalaap at the end of 'Fanaa' from Ayutha Ezhuthu/Yuva is mesmerizing.
I am not qualified to describe his music in the technical sense. But from a layman's point of view, I have Rahmans songs to accompany me for all moods/seasons. And Rahman's music once again proves the universal truth that music has no language barrier. Little did I think, I will enjoy the music of a chinese movie(Warriors of Heaven and Earth). Leave Chinese. If Rahman composes music for a movie from Timbuktu, for an yet to discovered language I would buy the CD and enjoy the music!
I can keep on talking about Rahman, but there is no end to it. So I end this post with one of my favorite quotes of Rahman.
Music is a spiritual thing not a formula. "If a music artiste wants to blossom into a full-pledged person, it's not enough if he knows only classical music; nor it's enough if he's well-versed only in raagaas and techniques. Instead, he should be a knowledgeable person interested in life and philosophy. In his personal life there should be, atleast in some corner of his heart, a tinge of lingering sorrow."
You can check here for the complete discography of AR Rahman, and here for the awards he has won/been nominated. And here for many rare photos of Rahman
To feel that this genius, who was called as 'The Asian Mozart' by 'Daily Telegraph' is from my city makes me feel proud and elated.
Vellai pookkaL ulagam engum malargave
vidiyum bhoomi amaidhikaaga vidigave


Metroblogging7Gifts
7Gifts
Metblogs7Gifts