Business with Flowers @ Koyambedu Malar Angadi
Note: The result of interesting conversations with our flower-sellers.
To many, Chennai might seem a city of glass and chrome (or huts and slush if you look at it another way). Of multistoried apartments, software pottis, cut-outs, corporate structures, sweeping financial tides and sky-scrapers. Old-timers might mourn the loss of many traditions now long lost … but there are still a few left, which bring up a tsunami of memories. Not to mention the fact that a huge industry exists, based on centuries old tradition, right under our very noses. It's composed of a set of rules, properly followed, a large turnover, and teeming hordes of industrious workers who make sure its wheels turn smoothly.
They're the flower-sellers of Chennai.
They're usually part of a blink-and-you-miss act in the usual routine of the average Chennaiite; they're around in the mornings or evenings, dressed in well-worn saris, toting a huge basket filled with every kind of native flowers that the landscape has to offer. The women of the house are the ones who generally look out for these flower-ladies, checking their wares of jasmine, kadhambam, roses, saamandhi and every other colourful, fragrant blossom in the bloom-spectrum. And that's just the first part of the process. The other consists of haggling over the prices, groaning over the steadily increased rates, sighing over the days when flowers were practically free, or grown in one's gardens … and then coming to certain conclusions about what to buy, what not to, sharing some good-natured gossip about the worldly happenings, and then going each other's way.
And that's just the simple part.
What's much more complicated is the intricate web of commerce that connects all of them together. Meenatchi, a 50ish flower-seller who frequents the streets of Alapakkam, is one of the important cogs that help the system run efficiently. She's aware of the fact too – right down to the finesse of speech that categorizes down-to-earth people such as her.
"Selling flowers makes me independent," she says nonchalantly, measuring a length of jasmine against her arm for Rs 10. "My children are all grown up now and settled – and I need a source of income to see me through. What I earn here is more than enough."
Her days start early enough, and at Koyambedu, the perennial flower-market that's the parent body for these smaller sellers. "I go around the streets surrounding the Meenakshi dental College, and right up to Valasaravakkam," she divulges. "People are always fond of flowers – so I've no trouble selling mine."
For Vasanthi, part of a sister-duo that takes the Nungambakkam beat, things aren't so easy. "Where have I got the time to stop and chat?" she asks breathlessly, as I try to get her to into a conversation. "I'm up from 4 in the morning, and I have to get my business done by 7 AM," she rattles, handing out bunches of roses and lotuses to a long queue of customers. Incredibly, her prices are even higher than Meenatchi's. "Well, it's a muhurtha day," she explains, though her eyes drop. "And I'm already sold out – must get more from my sister." She hurries away before I can question the atrocity of getting two lotuses for twenty rupees. "What can I do?" she calls out. "The prices at the market are so high."
Deciding that this mysterious market of theirs warranted investigation, I made plans for an expedition to the famed Koyambedu flower-market, the common supplying-point for many of the flower-sellers that swept over the cityscape. Earlier based in Parrys, this focal point had shifted sometime ago to Koyambedu, a sprawling cement structure where I discovered, much to my amazement, that one entire building, the size of a good-sized southern Tamil temple, was wholly occupied by the Koyambedu Malar Angadi – the Flower Market.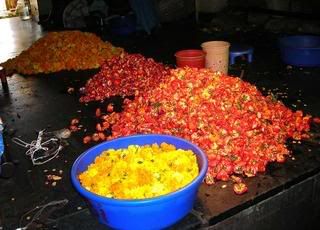 At 9 AM, and already sweltering in the morning's heat, I stepped over the flat stone steps that led into the building – and was immediately engulfed into the madness that was quintessentially Koyambedu. Huge garlands of rose and white flowers were strung on nails on the outer-most stalls, while inside, several pathways led into cooler interiors. I stepped gingerly on the plantain leaves and general rubbish that lined the stone floors, and into one such alley-way.
Row upon row of every kind of flower in the city met my astonished gazes. There were fragrant roses, heaps of jasmine, mounds of yellow and orange saamandhi teetering upon the low cement platforms, small shops that sold only plantain rope and twine to tie up the flowers, packets of white flowers, and bowls of eye-catching orange kanagambaram … the list was endless. A thick, cool scent hung about the halls, and though cobwebs and posters of cine-stars decorated the dank walls, the colourful array of blooms more than made up for it.
I probably looked very conspicuous picking my way through the flowers, as one seller after another first threw wary looks at me, and then tempted me with little bunches of Marikozhunthu and kathirpachai. One or two, though, despite the hectic pace and crowds milling about, were more than willing to chat.
"Our day starts at three AM," revealed Pazhani, who sat beside heaps of kanagambaram, weighing it out in his scales. "The earlier, the better. The lorries come by with their loads of flowers and unload; we get our stock and settle down here. By two or three in the afternoon, our business is pretty much done." As I watch, a ser, or 350 gms of flowers goes for about Rs 20. Jasmine is much dearer, at Rs 50 a ser for small buds, and Rs 100 a ser for slightly bigger ones.
Why did they still use such old-fashioned measurements?
"Makes the flower-sellers feel better," grins Pazhani in a gap-toothed fashion. "The kilo-system is better for us, but they feel like they're getting a better bargain at these prices. Which they are."
At another little stall (just cement floors separated by a small barrier), a boy sits hawking fresh red roses. "How much?" I ask, filled with trepidation, as I'd been quoted outrageous prices just the day before. "100 for Rs 15," he says indifferently. "How many do you want?"
I stand and gape. "A hundred roses? Really?"
He gives me a pitying glance. "How many?"
I stagger away with a bag full of flowers, still marveling at the prices that floated around a wholesale market. Along the way, an old man sits with a basket full of what looked like folds of velvet. "Kolikondai," he informs me, as I look curious. "They look like the headpiece on a hen's head, you see – that's why they're named so." They were not for sale on a piece-by-piece basis, but sold as baskets to garland-makers.
As I continued my tour along the dark paths, diligent flower-sellers sprinkled water on dropping blooms, hawked clusters of roses artfully packaged in wrappers for valentine's day, sewed elaborate threads and flowers for wedding garlands, ate dosais for a late breakfast at a make-shift restaurant right at their feet, watched TV on old Dyanora television sets and chatted about the day's business.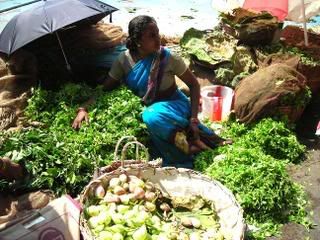 It was a world unto itself, with its own rules, regulations, timings, and citizens. And when I finally stepped around a weary lotus-seller, I felt like I'd taken a piece of that dark, perfumed universe within me.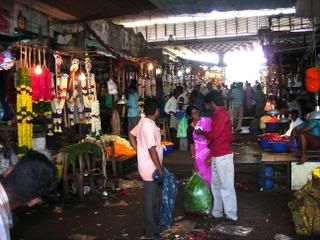 Back home, I harangued with a morose Kalyani, as she tried to sell me 10 roses for Rs 15. "It's not fair, you going off to Koyambedu to buy things," she huffed.
"Why do you sell at such atrocious prices, then?"
"Well, consider our costs – we have to travel back and forth, lug around our loads, walk all over the city and sell these to you," she argued. "Makes it up for all of that, right?"
We argued with each other a little more, and along better lines, a discussion of the latest movies, actors and economy thrown in for good measure. By the end of this heart-warming talk, we'd decided that if she sold her roses for less, I'd promise never to visit the flower-markets again. "It isn't right for you to snatch my business," she sniffed. "Don't I bring you just the kind of flowers you like, and just when you need them?"
This was quite true. Kalyani had a knack for anticipating the household needs – a sort of human flower-robot.
And thus did we come to our amicable conclusions – because that is the world of a flower-seller, you see, and no matter their prices, they still have a smile for us, and an ear to lend our cares.
Perhaps that's a trait they've inherited from their beloved flowers, after all.