Tamil Pulp Fiction
Tamil Pulp Fiction is an extremely interesting and entertaining set of stories, translated from Tamil into English.
Got it as a gift from my cousin and was lying idle for quite sometime, until the recent rains marooned me at home and then i decided to devour this book with some vadas and kaapi.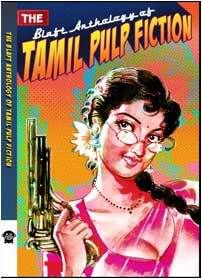 Boy, it was really good, i managed to finish the book in a day and am already planning to check the book stores if there is more of tamil pulp fiction translated into English.
What interested me to take up this book was the back cover…Mad Scientists! Hard-Boiled Detectives! Vengeful Goddesses! Murderous Robots! Scandalous Starlets! Drug-Fueled Love Affairs! ah it can't be better! a good potpourri
17 Stories by 10 Tamil authors
Here are the ones..
Hurricane Vaij" by Subha
"Idhaya 2020" by Rajesh Kumar
"Matchstick Number One" by Rajesh Kumar
"The Rainbow" by Rajesh Kumar
"Silicon Hearts" by Rajesh Kumar
"The F.L.R." by Rajesh Kumar
"Me" by Vidya Subramaniam
"Ripples" by Vidya Subramaniam
"The Rebirth of Jeeva" by Indra Soundar Rajan
"The Rich Woman" by Ramanichandran
"Dim Lights, Blazing Hearts" by Ramanichandran
"Sweetheart, Please Die!" by Pattukkottai Prabakar
"Tokyo Rose" by Tamilvanan
"My Name is Kamala" by Pushpa Thangadorai (excerpt)
"A Murder and a Few Mysteries" by Brajanand V.K.
"Revenge" by Brajanand V.K.
"Glory Be to the Love That Kills!" by Resakee
My favourites were Hurricane Vaij, Matchstick Number one and The Rebirth of Jeeva. I will not go into individual review of the stories, but trust me this book is a good time pass on a rainy day.
The Blaft Anthology of Tamil Pulp Fiction translated by Pritham K. Chakravarthy. Published by Blaft. The paperback costs Rs 395.
go, grab a masala vadai and kaapi, sit back and enjoy the book.